Amul previously launched immunity-booster range beverages soon after the pandemic breakout. To delight the customers even further, they expanded this product range to the Ice Cream Category as well. They recently announced the launch of Haldi or Turmeric Ice Cream.
Haldi or Turmeric is a well known known herb which is in use from a very long time in the Indian Subcontinent. Haldi has recently gained a lot of popularity and significance in the western world because of the numerous health benefits it provides.
Haldi contains beta-carotene, ascorbic acid (vitamin C), flavonoids, calcium,fiber, iron, niacin, potassium, zinc and many more beneficial nutrients. Curcumin, a naturally-occurring chemical compound found in the spice turmeric, boosts brain-derived neuro-trophic factor, links to improved brain function and overall lower risk of brain diseases
Haldi has many health benefits and due to its popularity it also servers as an Immunity-Booster. Many Indian-origin brands such as Amul and Dabur are exploring spaces to add Haldi into their line of products.
The Immunity-Booster Range
Amul launched Haldi Doodh (Turmeric Milk), Ginger Doodh (Ginger Milk), and Tulsi Doodh (Tulsi Milk) during the Coronavirus pandemic. And it has now doubled its immunity-boosting range amid the ongoing pandemic as the market booms for such products. Amul further announced recently about the launch of Haldi or turmeric ice cream. The announcement was, in fact, posted on its Twitter page.
"While the world is learning to cope up with the Covid-19 pandemic till we get an antidote for it, people have come to learn and follow the ancient ways of keeping immunity high with the help of Ayurveda and practicing a healthy lifestyle," Amul said.
Amul also plans to roll out two more such products-
Immuno Chakra Icecream – the Health trinity of Haldi-Ginger-Tulsi in tri-colour Ice-cream stick of 60 ml
Star Anise Doodh in the 200 ml can
Amul announced this in a separate statement.
Amul Haldi Ice Cream
The turmeric ice-cream is enriched with the goodness of Haldi (turmeric), pepper, and honey with the richness of dry fruits like dates, almonds, and cashews. Hence, this combination is a mix of taste and health in the same cup of ice cream.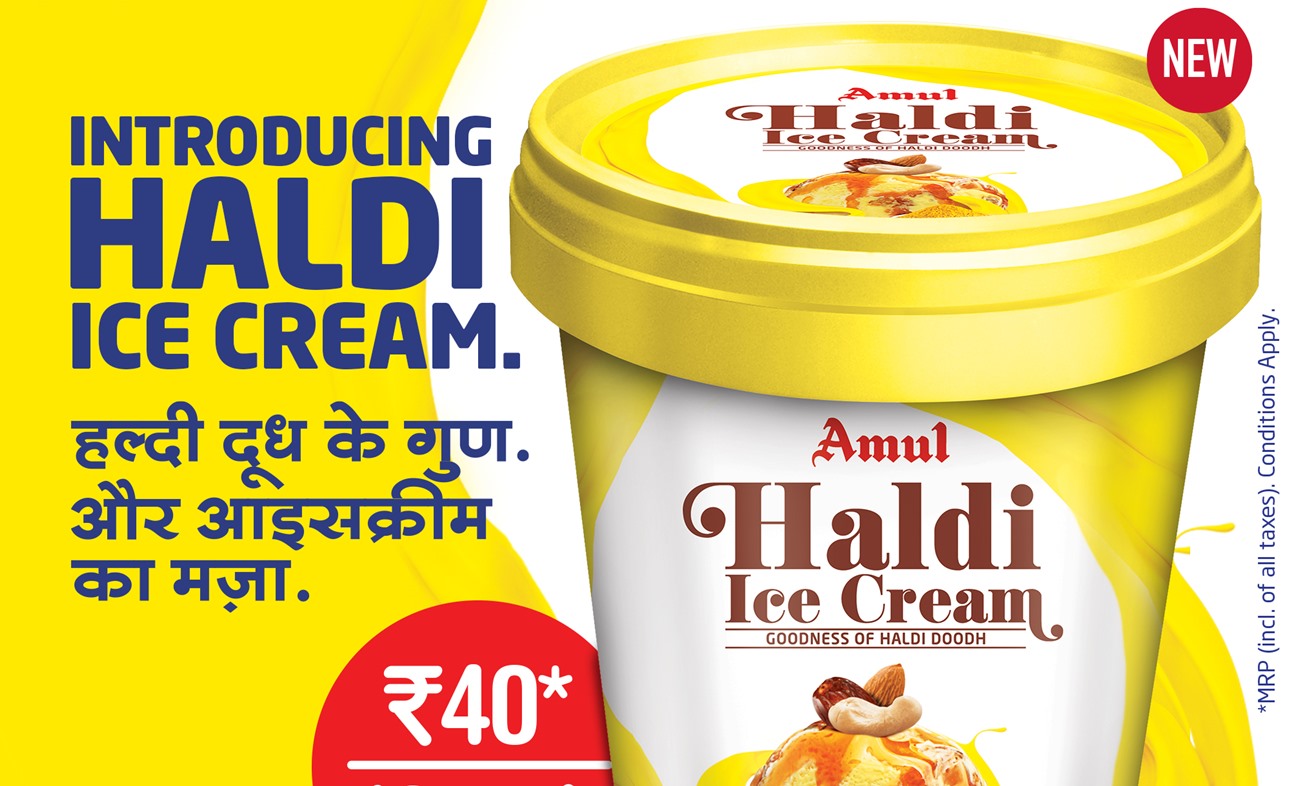 Counting on the benefits, Turmeric is known for its antibacterial and anti-inflammatory properties. Pepper is another spice that is known to Indian households for treating respiratory diseases and good for digestion. Honey is rich in antioxidants and helps suppress a cough. The addition of dry fruits makes the entire experience healthier.
Amul packages this ice cream at the state of art manufacturing plants in north and west India. Furthermore, the current production capacity is of 5,00,000 packs a day. The ice cream is available at a price of just Rs. 40 for 125 ml of cup packing. The product will be available on Amul parlors and retail counters.
Read more about Amul's Haldi Milk
---
Rate this article -