The robotic kitchen could one day be able to create a variety of world-class dishes for domestic and professional kitchens. This is what many of us often end up imagining. But this is a new reality now! Chennai-based RoboChef claims to be the first and only fully automated robotic kitchen in the entire world.
In fact, the only manual intervention in the process is the loading of the ingredients. RoboChef is also planning to expand its presence to newer cities with its cloud kitchen model.
The Vision behind starting RoboChef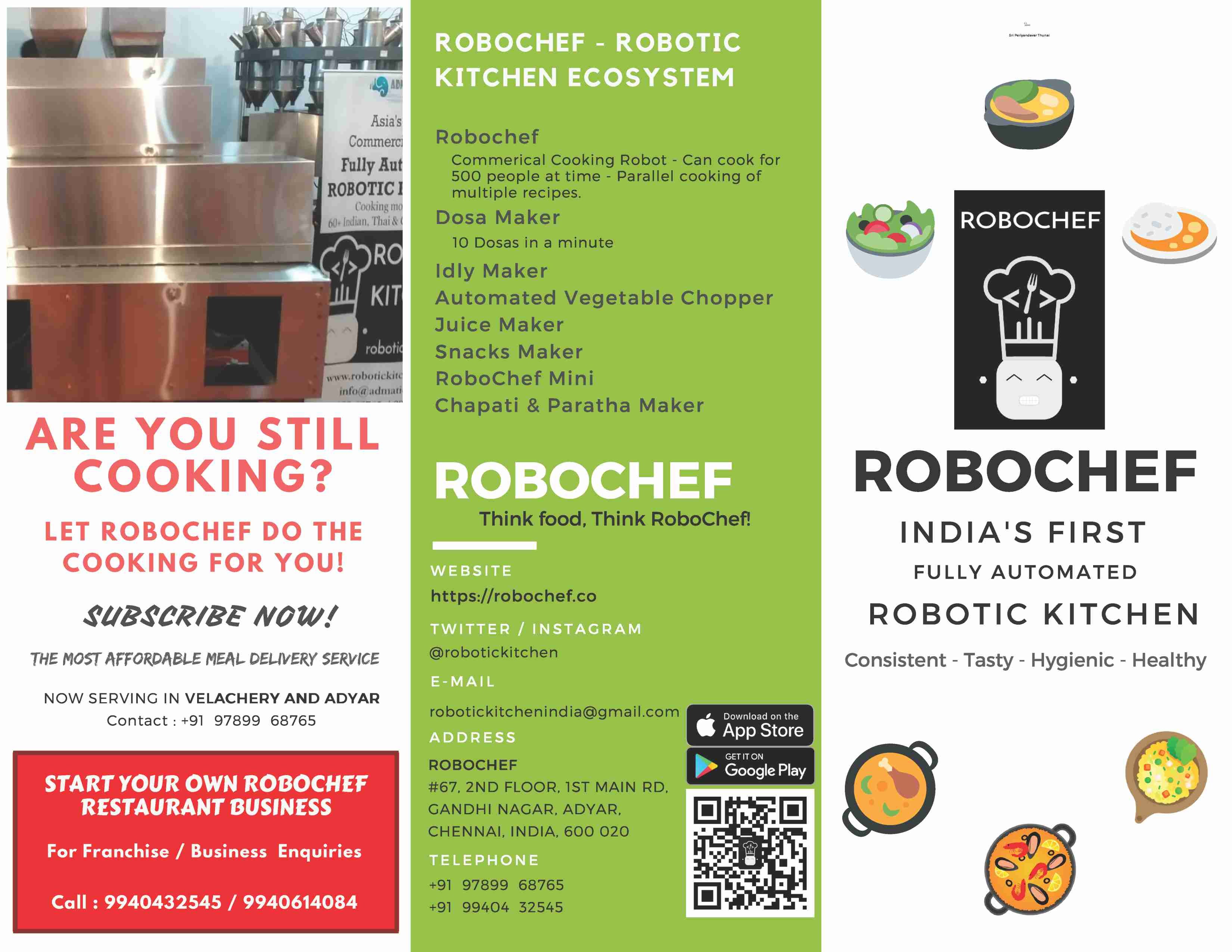 Whenever we think of robots, our minds often think about Japan or the US or any other developed country. But why, not India? Why the stereotype that Indians cannot build a robot? That was the biggest reason why they started Robochef. Furthermore, they built the entire machine in India.
Saravanan Sundaramoorthy is a Computer Science engineer with a specialization in robotics and he is the CEO of Robochef. He developed a fully automated kitchen in Chennai. This robot can cook over 500 meals without any manual effort. Robochef is capable of creating perfectly portioned meals and ensures that you get the right amount of food to fill you up. Also, it ensures the proper hygienic quality of food.
Unique Specifications
Robochef, a start-up based in Chennai developed a robot which is a massive stainless steel structure. It has 600 recipes of dishes pre-programmed into it. The robot might not be visually appealing but does everything that walking and a talking chef can do and perhaps more. It can cook 600 recipes in total, out of which 480 recipes are Indian, 100 are Chinese and the others belong to the Mediterranean cuisine.
Saravanan, the founder of robochef claims that it is fully automated and the fact that zero manual effort is needed. This seems to be the biggest advantage. It cuts down the cost of more than 60 percent of hiring so many people in the kitchen. Just buy the ingredients and load it into the machine.
Features of Robochef
Consistent taste
Customizable
Fully Automated
Record Recipe Once, Cook Forever
Insanely fast and efficient
Serve hygienic and hot food for the masses
Perfectly portioned meals to fill you up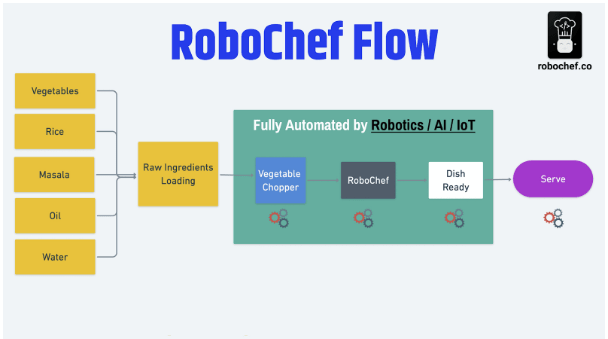 Placing Your Order at Robochef
You can use the Robochef Studio (web app), the iOS application, the Android application to order from anywhere around the city.
Placing an order would queue it up in the Robochef outlet nearest to you. It also then starts the internal cooking process. You can add, remove, or replace any ingredient in a recipe to suit your taste and dietary restrictions while ordering from the app.
Robochef will automatically calculate food costs. It increases or decreases the cost as you customize your order.
Madurai-style chicken biriyani is a hit among foodies in the city. Also, currently, it is the only restaurant in the world that can cook 18 varieties of Biriyani. In fact, Robochef can cook a wide variety of dishes — ranging from sambar to rasam to fried rice, mushroom biriyani, fish curry, almost anything! 
Robotchef prepares the dishes exactly like a chef would manually cook. It has 0.01 gram of accuracy when it comes to the ingredients. The robotic kitchen is certified by the FSSAI (Food Safety and Standards Authority of India) for its sanitation. Robochef also has a self-cleaning mechanism that cleans and disinfects the vessels after every meal.
The Use of IoT Technology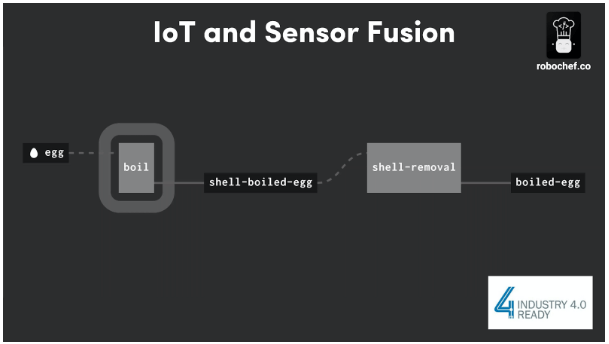 The machine uses the Internet of Things (IoT) technology system which collects real-time metrics. Hence it can tackle failures at the right time and calls the process 'software-defined cooking'. To keep things in control, sensors and components are constantly monitored. So they can use predictive analytics to service any parts or hardware components well before the customer notices the problem.
Robochef is currently a cloud kitchen — a kitchen set up for preparing delivery-only meals. Started in April 2019, they already have four cloud kitchens — one in Adyar, one in Alandur, and two in Velachery. It prepares nearly 3000 meals every day. Another challenge here is keeping the maintenance cost minimal. At RoboChef, an engineer visits customers every two months for maintenance service. Henceforth, this is in addition to predictive analytics which fixes any problem due to wear and tear even before the customer finds out – thanks to AI.
Future aspects of RoboChef's Automated Kitchen
It is expected that in the next 50 to 100 years, the world will truly embrace the industry 4.0 technologies across all manufacturing and creation industries. A trend towards automation and data analytics is already visible within the manufacturing sector. In fact, the industry 4.0 is a culmination of new-age technologies including cyber-physical systems (CPS), the internet of things (IoT), industrial internet of things (IIOT), cloud computing, robotics, 3D printing, cognitive computing, and artificial intelligence.
"Since RoboChef does all the heavy lifting. So we potentially see a huge scope of scaling up with almost zero manual effort. We are well prepared and ahead of two years with our advanced tech stack to compete in case any competitor arrives,"  said Saravanan Sundaramoorthy.
In line with this, Sundaramoorthy believes that the business opportunity is very promising for the startup. Furthermore, the consumers have also accepted RoboChef for its consistent taste and the customization potential. Robochef supports multiple global cuisines like Chinese, Vietnamese, Thai, Indian, Italian, dishes.
Robochef team has also proposed a global solution for cooking, called CookOps. CookOps is applying the automation techniques widely adopted in the software world specific to cooking.
Read: Pazzi- The Pizzaiolo Robot bakes Pizzas!
Video: If you wish to have a glimpse of what the cooking at Robochef looks like, do check out this video.
---
Rate this article - 
B.Tech Student at NIFTEM (National Institute of Food Technology and Entrepreneurship and Management)